Recycling packaging is important, but do we know what the recycling logos mean?
Recycling symbols are used to help us identify different types of packaging and if they are capable of being recycled. They can be confusing, so we are here to help you make sense of them and hopefully increase what you recycle in and out of the home.
On-Pack Recycling Label (OPRL)
The On-Pack Recycling Label is designed to help consumers to correctly recycle or reuse packaging correctly. It provides clear and simple advice to help you understand if the packaging can be recycled, collected from your household recycling bins or if it can be taken to your local recycling centre.
These labels will appear on many types of packaging such as crisp packets, bread bags, plastic bottles, drinks can etc.
Recycle - This label is applied to packaging which is widely collected for recycling.
Don't Recycle - This label can be seen on packaging that isn't widely collected by local authorities. The items are unable to be correctly sorted and recycled into new packaging.
Recycle - Rinse - If recyclable packaging that contained food isn't rinsed, the residue could then contaminate the other materials when collected together. Making sure the packaging is properly cleaned, will ensure the items can be sorted and recycled.
Recycle - Lid On - Certain parts of packaging are too small to be able to be recycled on their own. Any caps and lids that fall under 40mm in diameter are too small to be sorted correctly at recycling plants. If your item displays this label, by ensuring the cap or lid is put back on bottle, will mean all of it will be collected and recycled!
Recycle with Bags at Large Supermarkets - Don't Recycle at Home - This label can be seen on plastic wrapping like bread bags, chocolate wrappers and crisps packets. This can be recycled and is collected at specialised collection points at your local supermarkets.
Recycle - Bottle Cap On - Don't Recycle Remove Sleeve - Quite often you will need to separate packaging before it can be recycled or thrown away. This label can be seen on packaging when a sleeve or film is simple to remove from the main packaging. For this, the sleeve would be removed form the bottle and thrown away, the bottle can then be recycled correctly.
Green Dot
This symbol does not mean the packaging it is placed on is recyclable. The Green Dot is a widely recognised symbol in many European Countries. It signifies that for each piece of packaging, a financial contribution has been paid to a national packaging recovery organisation. The Green Dot IS NOT a mandatory trade mark.
The Green Dot is a registered and protected trade mark in the UK, but has no other specific meaning for UK consumers.
Mobius Loop
Packaging that displays the mobius loop, shows that the item is capable of being recycled. However, the item may not have been made from recycled materials.
If the packaging contains recycled material, the symbol will show a '%' centred within the logo. This roughly indicates what proportion of the item has been made from recycled materials.
This symbol doesn't ensure that the item will be collected from your household bins or recycling centres, so please check with your local council first.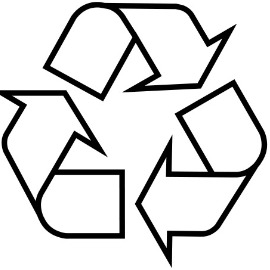 Tidyman
This isn't a recycling symbol. The Tidyman is trademarked by charity Keep Britain Tidy and is used on packaging as a reminder to the consumer to not litter and to be considerate with how they dispose of it. Brands may feature the Tidyman on their packaging exchange for a nominal fee which contributes to the wider work of the charity, and assists Keep Britain Tidy to deliver against their aims to eliminate litter and waste, improve public space and help people live more sustainably.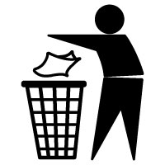 Waste Electricals and Batteries
The crossed-out wheelie bin symbol on your electrical product, batteries, or their packaging, reminds you that all electrical and electronic products and batteries must be recycled through either a recycling centre or with retailers.
Some Local Authorities may offer recycling of small electrical items and batteries, through your household collections.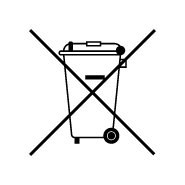 Recyclable Aluminium
This symbol shows that items such as drink cans, are manufactured from recyclable aluminium and that it can be recycled and used again and again.
Glass
This symbol is a reminder to recycle your glass containers, such as glass bottles and jars. They can be collected with your household recycling and at bottle banks.
Plastic Resin Codes
These symbols help consumers to identify different types of plastic resin used to make the product.
They were applied to help assist with the sorting of plastics. Like many materials plastics should be recycled separately, so the value of the of the recycled material is preserved. Allowing it to be reused to make new products.
It is shown as an arrowed triangle, containing a number between 1-7, identifying the resin used.
1. PET (Polyethylene Terephthalate) This is a widely recycled plastic that is mainly used in clear single use plastic, such as bottles.
2. HDPE (High Density Polyethylene) This is a widely recycled plastic and is found in thicker coloured plastic bottles and tubs, such as shampoo bottles and margarine tubs.
3. PVC (Polyvinyl Chloride) This isn't widely collected and is difficult to recycle. It is used in products ranging from healthcare to wire and cable insulation.
4. LDPE (Low-Density Polyethylene) This is a flexible plastic that can be found in plastic bags, such as bread bags and collected for recycling at specialised collection points, such as supermarkets like Tesco's and Sainsburys.
5. PP (Polypropylene) This is a widely recycled and can be found in trays and tubs.
6. PS (Polystyrene) This isn't widely collected and is difficult to recycle. There are 2 types. The hard, brittle type can be found in disposable cutlery and the expanded polystyrene can be found in foam meat trays.
7. Other This is used in items such as crisp packets and collected for recycling at specialised collection points.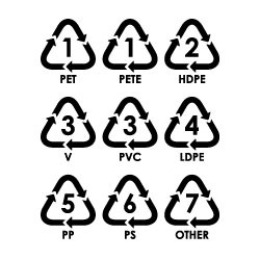 Paper, card and wood
The Forest Stewardship Council (FSC) logo is displayed on products which contain wood from sustainably managed forests. These forests have been independently certified in accordance with the rules of the FSC.
RESY
Another symbol often displayed on paper and cardboard packaging, is the RESY recycling symbol. This symbol guarantees that packaging with this symbol is recyclable and will be accepted by cardboard recyclers.
In order to apply the symbol, you must first have an agreement with RESY. RESY is a German recycling system and the agreement can be viewed here. Once the agreement with RESY is in place a unique number is provided, which is then applied next to the symbol. The RESY applies to secondary and transit paper and card packaging.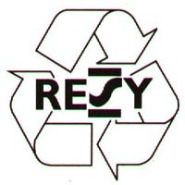 Compostable Packaging
Items that carry this symbol can be recycled by your Local Authority, through your garden waste collections.
This 'seedlings' logo is a registered trademark of European Bioplastics and means that the products are certified to be industrially compostable according to the European standard EN 13432/1495. These products will fully biodegrade under controlled conditions in an industrial composting plant.
Home Compostable Packaging
This symbol indicates that the packaging is suitable for home composting. It can either be added to your DIY home compost bins or it can be recycled by your Local Authority, through your garden waste collections.
European Single-Use Plastic
The European Commission's Single Use Plastic Directive, states that from July 2021, any disposable single-use plastic products which are placed onto the market in the EU, display a 'Plastic in Product' logo. The UK currently have no plans to implement this. The Directive does not separate between those products containing petroleum plastics or plant-based plastics. So even if a product is classed as compostable it will still need to display the logo.
Wet Wipes - Wet wipes, i.e. pre-wetted personal care and domestic wipes

Sanitary Items - Sanitary towels (pads), tampons and tampon applicators
Tobacco Products - Tobacco products with filters and filters marketed for use in combination with tobacco products
Cups for Beverages - Disposable cups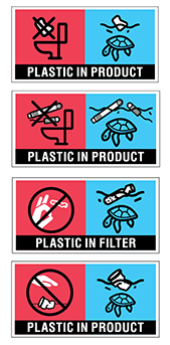 Best Before / Use by Dates
A best before date means that a product should be at its best up until the date displayed. For edible products, they are still safe to consume after the best before date; however, there may be some loss of flavour or quality.
A use by date is the guaranteed date that a edible product is safe to consume by, as long as the packaging has been left intact.
Period After Opening
The period-after-opening (PAO) symbol highlights the amount of time a cosmetic product will remain safe for use after being opened for the first time. It depicts an open cosmetics pot and is used together with a written number of months or years. This should hopefully help reduce the waste cosmetics can create around the home.
CE Marking
The CE marking is a key indicator of a product's compliance with EU legislation and enables the free movement of products within the European market.
By affixing the CE marking on a product, a manufacturer is declaring, on their sole responsibility, conformity with all of the legal requirements to achieve CE marking and therefore ensuring validity for that product to be sold throughout the EEA, the 27 member states of the EU and European Free Trade Association countries - Iceland, Norway, Liechtenstein and Turkey. This also applies to products made in third countries which are sold in the EEA and Turkey.
The United Kingdom Conformity Assessed (UKCA) Mark performs the same role for the UK. Goods supplied into Northern Ireland continue to require the CE mark to be displayed.
The United Kingdom Conformity Assessed (UKCA) Mark
The UKCA marking is a new UK product marking that is used for goods being placed on the market in Great Britain (England, Wales and Scotland). It came into effect on the 1 January 2021 and covers most goods which previously required the CE marking, known as 'new approached' goods.
You can continue to use the CE marking for goods placed on the market in Great Britain until 1 January 2023. The UKCA marking must be used for placing goods on the market in Great Britain from 1 January 2023. The UKCA marking can be used now and we encourage businesses to start using the UKCA marking as soon as possible. More information can be found here.
For goods place onto the Northern Ireland market there is also a separate UKNI mark and will continue to require the CE mark to be displayed. For further information and what goods require the mark visit the Gov.UK website.
Triman
The Triman symbol was implemented into French law and came into effect from 1 January 2015.
From January 2022 it will be mandatory for sorting instructions to also be displayed with the Triman symbol. A yellow or green pictogram will be required to instruct which bin the waste should go in. More information can be found on the Citeo website.
These symbols should be placed on all primary packaging or product affected by Extended Producer Responsibility in France, as well as Waste from Electrical and Electronic Equipment (WEEE), batteries, textiles and furniture.
Three elements make up the Triman symbol, which are inseparable:
Human silhouette which represents the consumer
Three arrows which symbolise sorting to allow for better waste treatment
Circular background which symbolises recycling
Relevant sorting instructions - From January 2022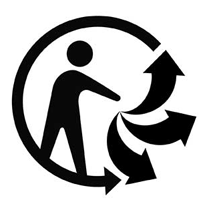 If you are unsure of what items can be collected and recycled from your household bin collections or where you can recycle specific items, please enter your postcode into our recycling sites locator tool